"How to Write for Children and Young Adults and Get Published"
My World Book Week started early, with the How To Write for Children and Young Adults and Get Published conference on Saturday 28th February. The conference was arranged by Writers & Artists, and hosted at the rather grand Bloomsbury offices on Bedford Square. Many thanks to Claire Daly of Bloomsbury for briefing me and generally looking after me!
Throughout the morning, panels of literary agents and commissioning editors discussed the dos and don'ts of submissions. In the afternoon, attendees could choose between three two-hour masterclasses: Holly Bourne's class on YA fiction, my class on writing for middle grade, and Sue Hendra's class on picture books.
Mine was the largest class (thirty of us crowded around the long table) but I was lucky enough to have a really keen, interesting, varied and insightful group. We had attendees from different countries and professions, working on a wide range of projects – contemporary, historical, fantasy, humour, adventure, fiction and non-fiction. I really enjoyed our discussions, and in particular everyone's offerings for the 'childhood memories' exercise. Good luck to everyone with their writing!
Visit to Ashford School
On Tuesday 3rd March, I visited Ashford School in Kent, which turned out to be friendly, mellow, engaged and interesting, with some nice old Victorian buildings and really impressive paintings by students on the walls.
I spoke to Years 6, 7 and 8, who had interesting questions to ask about the writing process, changeling folklore, horror stories, etc.
I even had the chance to chat with members of the Sixth Form Literary Society about university, hobbies and choices.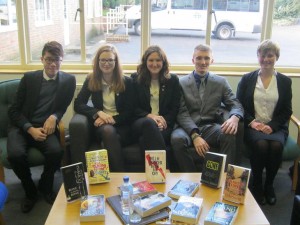 Kitschies Award Ceremony
The Kitschies are amongst my favourite speculative prizes – they're fun, forward-thinking and fascinated with tentacles. Last year, I was invited to be one of the Kitschies judges for the Golden Tentacle (debut novel) and Red Tentacle (most entertaining, progressive and original novel). I leapt at the chance and said yes… and immediately disappeared under an enormous pile of books.
In the end, there were 195 submissions. Fortunately I was only one of five judges, a couple of whom got through books faster than a woodchipper. My comrades-in-arms were Glen Mehn, Adam Roberts, Kim Curran and Cat Webb. (Glen did a great job of organising and motivating us as we scaled the vast mountain of books, and made sure none of us fell into the crevasses.)
The awards ceremony took place on Wednesday 4th March at Seven Dials near Covent Garden. Glen was master of ceremonies, Cat and Kim announced the Golden Tentacle winner, and Adam and I presented the Red Tentacle. (Adam's speeches were a lot more eloquent than mine, despite the fact that I had prepared a script and he hadn't.)
Jim Kay also gave a very enlightening speech about the trials of cover artists, whose work requires a great deal of skill, effort and patience, but whose contributions are so often overlooked.
The proud winners of the Kitchies tentacles were:
Red Tentacle (novel): Grasshopper Jungle by Andrew Smith
Golden Tentacle (debut): Viper Wine by Hermione Eyre
Inky Tentacle (cover art): The cover of Tigerman, by Glenn O'Neill
Invisible Tentacle (natively digital fiction): Kentucky Route Zero, Act III, by Cardboard Computer
Black Tentacle (special achievement): Sarah McKintyre
Visit to Townley Grammar
My day started inauspiciously, when I found myself stranded at Bexleyheath station without a taxi in sight. After I phoned the school in a slight panic, however, I was rescued from my predicament by Batgirl.
In the comfortable, friendly library, I talked to members of Years 7, 8 and 9, many of whom were magnificently disguised as book characters…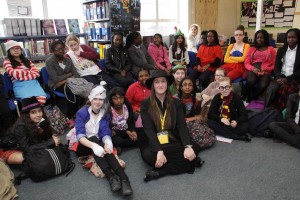 …as were the teachers.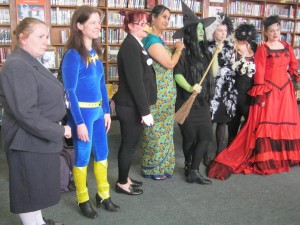 Finally, I was interviewed by ace student reporters Medusa and Holly Golightly (I assume they don't always go by those identities.)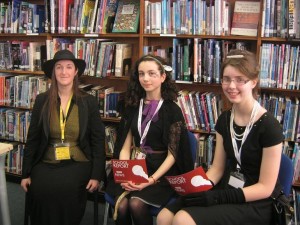 And just because I can't resist, here are some more of the World Book Day costumes.