To be honest, I can't quite remember the moment where I thought: "I know what the world needs – a Victorian Gothic murder mystery featuring deception, palaeontology,  postmortem photography, feminism, blasting powder and mendacity-munching plant life."
Oh well, too late to change my mind now. The Lie Tree is published!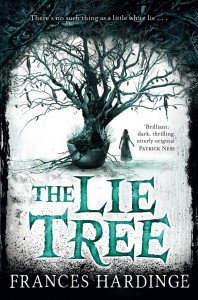 To celebrate this, I headed north for a brief but enthusiastic three-day tour, under the wing of Macmillan's Andy Belshaw.
Day One of the tour was organised by Booka Bookshop, in Oswestry.
Our first visit was to Moreton Hall School, where I babbled about changelings in front of a hundred and fifty students, before signing copies of Cuckoo Song and The Lie Tree.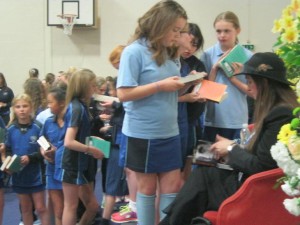 Later that evening I attended a friendly, relaxed meeting of the teen book club (and others) at Booka Bookshop.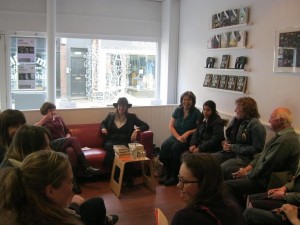 Day Two was arranged by Urmston Bookshop, and began with a visit to Manchester High School for Girls. Although I didn't discover this until later, MHSG was actually the school attended by the famous suffragettes Christabel, Sylvia and Adela Pankhurst!
I was rather pleased to find that I'd been promoting a feminist YA book at the Pankhursts' old school. During election season, no less…
Next we moved on to Altrincham Girls' Grammar School, where I gave two talks to Y8 students in the school library.
Back to Urmston Bookshop for serious literary discussions. Otherwise known as eating cake, and posing in the cardboard cutout of a previous visitor, astronaut Chris Hadfield.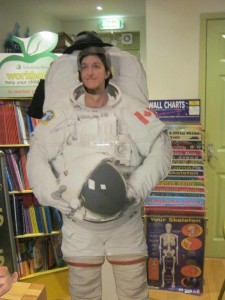 The final day was organised by Ebb & Flo Bookshop in Chorley. Our first stop was Bolton School Girls' Division.
Here I am with Diane Gunning of Ebb & Flo in front of Bolton School, which as you can see is splendidly crenellated and Hogwarts-like. (Apparently the library is tucked in one of the towers, and there are mysterious upper rooms…)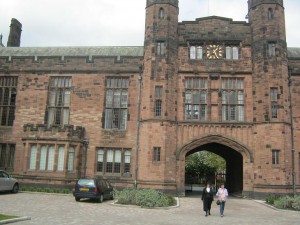 Ell & Flo had prepared us a rather nice picnic, which we gobbled en route to our last stop, Albany Academy. There I gave a talk to a packed hall, followed by a short recorded interview. One student approached me and suggested a particularly eerie idea for a story… which I really hope he writes so that I can find out what happens.
Many thanks to all the schools for having me, and Andy Belshaw for looking after me throughout the tour. A big thank you also to Booka Bookshop, Urmston Bookshop and Ebb & Flo Bookshop for all their hard work, and for the goodie bags of presents!