Over the long weekend I was at Eastercon (AKA Dysprosium, AKA the 66th British National Science Fiction Convention). Somebody kindly arranged for it to be held a short distance from my home, so it would have been churlish not to attend.
My panel was "A Maturing Readership – Young Adult Fiction", skilfully moderated by Peadar O'Guilin. My fellow panellists were Adrian Tchaikovsky (author of the Shadows of the Apt series and general polymath) and 14-year-old Emjay Ameringen, keen reader of YA. It was really refreshing to be on a YA panel with an actual 'young adult' on it, and Emjay greatly enriched the discussion with her eloquence, humour and confidence.
There was a general discussion of how far YA had previously existed in another form, and the audience made many excellent suggestions of books from the past that would have supplied teenagers/young adults with reading material. Adrian suggested that in the past genre fiction had sometimes been treated as transitional reading, after children's fiction and before adult fiction, and that this tradition might have had an influence on current YA literature.
A study by Bowker Market Research in 2012 found that 55% of people buying YA books were adults. We discussed possible reasons for this – the liberating themes of discovery, potential and overcoming boundaries in the books, the cathartic expression of intense emotions that adults aren't supposed to show, the tight pacing, etc. Emjay said that these statistics didn't bother her – in fact, knowing that adults were enjoying the same books that she was reading made her feel more mature.
Emjay also commented on the joys of re-reading the same book at a later age, and we talked about the ways in which a single book can provide a totally different reading experience depending on age. (I may now have to hunt down a picture book called The Bravest Ever Bear.)
With my panel out of the way, I spent the next couple of days running around the con having fun.
I attended panels/talks on supernatural detectives, early female paleontologists and archaeologists, the crazy/exciting areas of molecular biology, storm-chasing, the history of steampunk, turning books into roleplaying games, and how a fictional Home Office should deal with the paranormal.
Here are some things I learnt at Dysprosium:
1) Scientists have used DNA-folding techniques to create a 4-bit biological computer inside a cockroach.
2) It's possible to end up inside a mile-wide tornado without immediately realising it.
3) This woman existed. Jane Dieulafoy, nineteenth century archaelogist, explorer, sharpshooter, writer, soldier and officially licensed cross-dresser.
4) Some Bolivian detectives use magic skulls to help with their investigations. (Also quite an intimidating presence during interrogations, apparently.)
Then there was the fiercely contested Dalekdrome!
Sadly, the technically impressive 'Telepresence Dalek' fell foul of the seesaw, and never finished the course.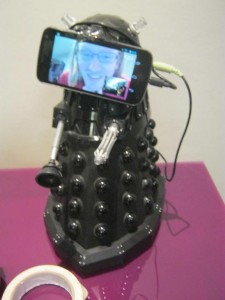 The 'Malek' did better, but the weight of the baby dalek in the papoose was a little too much for her to manage the ramps.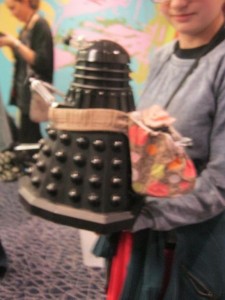 The winner, chasing through the course with reckless panache, was 'Davros, Wiper and Exterminator of the Daleks'! (It was also considered by judge Herr Doktor to be the most aesthetically pleasing.)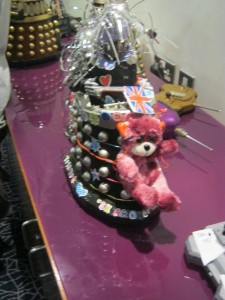 Needless to say, all daleks who completed the course dealt with the wooden stairs by pushing them contemptously off the edge of the table…
On Sunday afternoon, the BSFA Award ceremony was held in the Discovery hall. Cuckoo Song didn't win Best Novel, but I am still deeply honoured to have been on such a strong shortlist. Thanks to everyone who voted for me, and congratulations to the winners!
Finally I had a very enjoyable and relaxed Kaffeeklatsch, with a group who put up with my attempts to force-feed them biscuits and creme eggs. We discussed my current project (an adult urban fantasy), the 'Knowledge', post-mortem photography, the changing book world, etc.
All in all, a lovely convention, during which I encountered so many friends I lost count. Many thanks to the organisers for finding room for me in the programme!