On Wednesday 12th September, I travelled to Waterstone's Southampton Above Bar to attend ReCon, a convention celebrating manga, anime, science fiction, fantasy, horror and all things speculative.
To my shame I was ten minutes late, having been outwitted by the trains. (I only discovered I was on a slow train when it was far too late.) The queue of beautifully costumed attendees were very nice about an apologetic, behatted person sidling past them into the shop.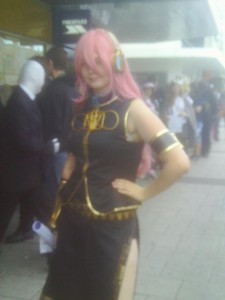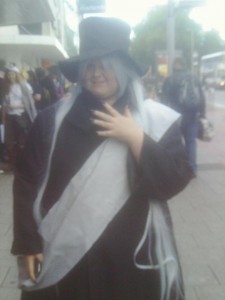 I was fortunate enough to share a panel with Alex Scarrow (author of the TimeRiders series), Andy Robb (author of Geekhood: Close Encounters of the Girl Kind) and Karrie Fransman (comic book writer/artist, and creator of The House that Groaned).
When you turn up for a public appearance, there's always a risk that you'll end up facing a 'dead' crowd – an audience that sits in morgue-like silence, blank faces staring back at you like potatoes. Thankfully, the gathering at ReCon was the exact opposite of this – one of the most 'alive' crowds I've ever met. Everybody was gleeful, enthusiastic, generous and accepting.
They were also fantastically dressed. I was lucky enough to be one of the judges for the cosplay competition, and was awestruck by the amount of care, skill, time and love that had gone into the anime and manga character costumes.
One nice lady even let me brandish her steam pistol. It had different settings, controlling the light fluctuations, and apparently she has more of them.
Given the high standard, picking winners was incredibly hard. (There were home-made Pikachu costumes, elaborately painted weaponry intricately sawn from balsa wood, a Van Helsing with spinning Tojo blades, steampunk goggles, gravity-defying hairstyles and enough top hats to warm anybody's heart.) I was also distracted by the joy of spotting characters from animes I'd seen.
Rune Vanderplank's photos of the contestants can be found here.
When I wasn't trying out Pocky and other interesting Japanese snacks, I was admiring the fine offerings for the art competition, including an atmospheric painting of Sephiroth from Final Fantasy VII. Karrie Fransman also encouraged those of an artistic or storytelling bent to add to a communal graphic novel project, each person drawing or writing a panel to continue the story. I would love to know how the plot turned out in the end…
Many thanks to Waterstone's Southampton Above Bar, my fellow panellists and everybody who attended for making ReCon so much fun.