Once upon a time, *coughcough* years ago, I studied English Literature and Language at Oxford University, coming away with a BA and a Master of Studies. It never really crossed my mind that I would find myself back in the lecture theatres of the English Faculty again.
It certainly didn't occur to me that, the next time I visited Lecture Room 2, I would be standing at the podium rather than sitting in the audience.
On Friday 31st, I had the great honour of giving the keynote speech at the Oxford University's English Graduate Conference. The theme of the conference was 'Object' – not exactly a narrow topic.
Perhaps it's not surprising that the 'objects' I chose to discuss were my own books.
Books are contrary objects – peculiar, manipulative, aggressive, untameable, dangerous and wonderful. In the Fractured Realm, the setting for my books Fly by Night and Twilight Robbery, most people are terrified of the printed word. There's a fear that books will indelibly imprint dangerous, maddening notions onto the waiting page of the reader's brain. In Fly by Night, the people of the city of Mandelion are being terrorised by a monster – not a creature of claw and sinew, but a thing of iron and ink. It's a rogue printing press, and fear of its presence is tearing the city apart.
People are used to the idea that books change readers, for better or worse. I went on to talk, however, about the way in which books can also change the very person that is creating them. I am no longer precisely the individual who wrote Fly by Night all those years ago. The very process of writing the book, the watershed of getting published, my life since as a professional author and the bizarre process of creating a 'public author profile' have all changed me. In a way, I have been reshaped and rewritten by my own book.
Fortunately, I don't mind. I can't wait to see how my future books rewrite me…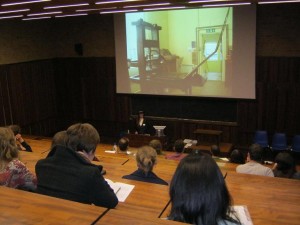 Many thanks to Erin Johnson for inviting me to give the speech, Alex Paddock for organising the conference, and all the other attendees for making me feel so welcome! It was also lovely to meet the conference's panelists, Stephen Walter (artist and 'psychogeographer'), Nick Cross (Digital Product Manager at OUP and Undiscovered Voices winner) and Dr Paul Nash (Oxford University"s chief Printing Tutor and winner of the 2013 CILIP Walford Award).