Last weekend, the appropriately named Future Inn opened its doors to the 25th ArmadaCon. This is Plymouth's annual science fiction/fantasy/cult TV/anime convention. As I discovered, it's also a den of colossal good humour, terrible jokes and swashbuckling geekery. And the attendees have all the best toys.
Aside from giving a couple of guest panels, I helped judge the 'Masquerade', where contestants were assessed on their costume, performance and flair. The overall winners were a duo who performed the whole of What's Opera, Doc.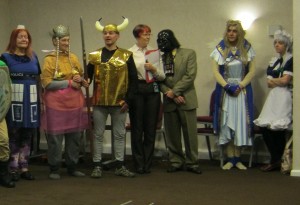 However there were many fine costumes that weren't even entered into the Masquerade.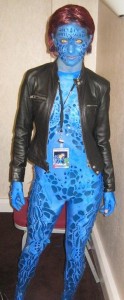 On Saturday morning I discovered that I had a stunt double.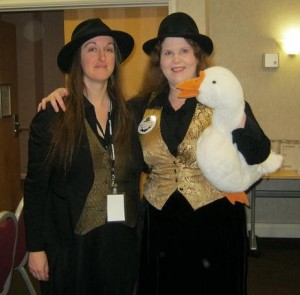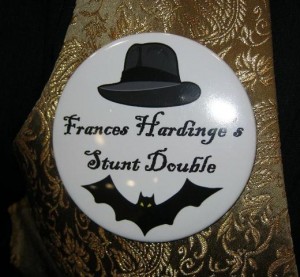 On Sunday the lovely Anna came back with a costume based on my fifth book, A Face Like Glass. She even let me keep the goose and apron!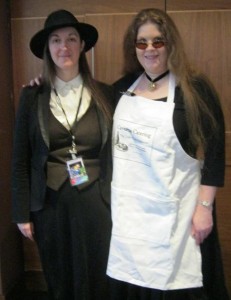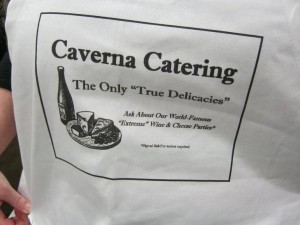 My fellow guest author David Wake spent the Sunday dressing as every Doctor Who ever invented, one at a time, including little known variants that had never reached TV.
Other high points over the weekend:
The Turkey Readings. Dreadful books are read out, whilst the audience bids loose change to get the reader to stop, or continue in funny voices. Dire crimes against fiction are greatly improved when read in the voices of Winston Churchill, Jessica Rabbit, Gollum, Dr Evil or Dr Watt from Carry on Screaming.
A stop-motion 'silent film' episode of Doctor Who, starring all the Doctors and featuring an entirely knitted cast. (Woollen daleks are unfeasibly cute.)
The auction, where strange and wondrous things were sold to raise over £1300 for the RNIB's Talking Books.
Champagne and chocolate Tardises.
Readings. Selkie tales, steampunk narrow escapes, and group readings/performances of scenes from The Derring Do Club and the Empire of the Dead and David Wake's other works. (The latter included the confrontation of an evil Father Christmas, the perils of a particularly smart phone and an amusing case of steampunk hankypanky.)
Tea duels
As a wonderful finale, on Sunday afternoon Mitch Benn arrived. He treated us to some of his clever, very funny and diabolically catchy songs, and was in some danger of being forced at sonic-screwdriver-point to sing all night. (I was privately delighted that he included my favourite, the "Bouncy Druid" song, but the miniature rock opera based on The Very Hungry Caterpillar is also required listening.)
Many thanks to everyone I met at ArmadaCon for a fantastic weekend!