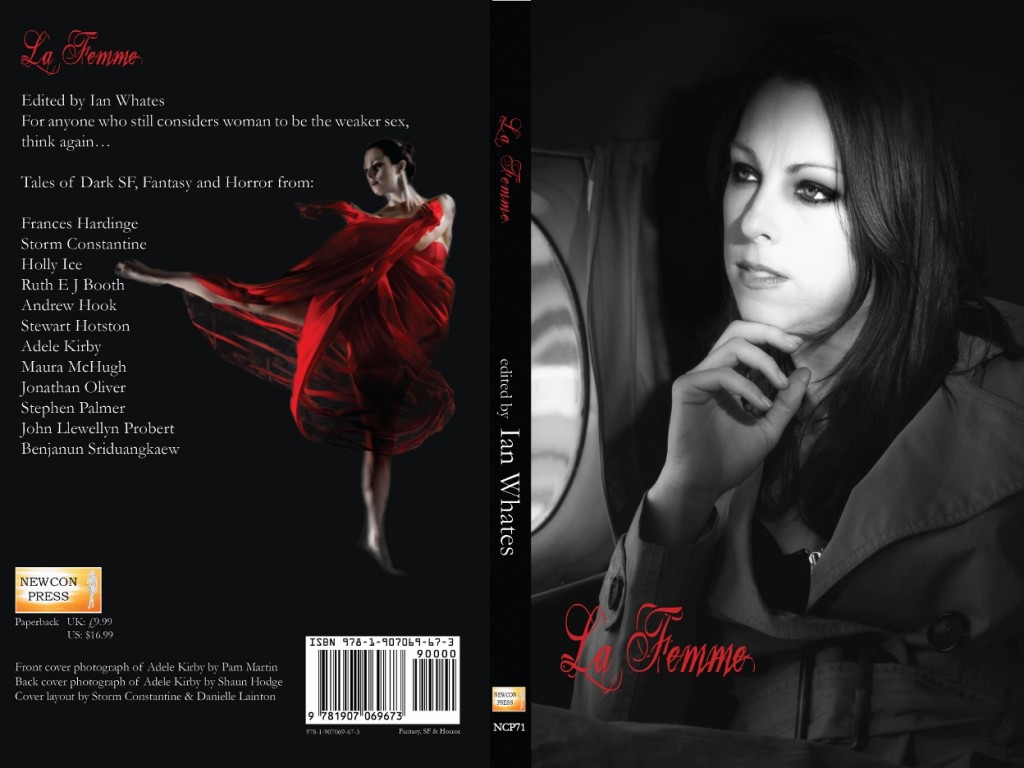 Another of my stories has escaped into the world! Today sees the official launch of twinned anthologies Noir and La Femme, edited by Ian Whates. Both contain fantasy, horror and SF tales that explore the dark, cynical, heady world of noir, but the latter focusses upon that most dangerous and ambiguous of creatures, the femme fatale.
My story, "Slink-Thinking" can be found in La Femme. It's noir, but of a slightly peculiar breed. My femme fatale won't be found peeling off long gloves, or wielding a cigarette holder. She'd need opposable thumbs for that. And a pulse…
Here's the full Table of Contents for both anthologies:
La Femme:
1. Introduction — Ian Whates
2. Stephen Palmer – Palestinian Sweets
3. Frances Hardinge – Slink-Thinking                
4. Storm Constantine – A Winter Bewitchment
5. Andrew Hook – Softwood
6. Adele Kirby – Soleil
7. Stewart Hotston – Haecceity
8. John Llewellyn Probert – The Girl with No Face
9. Jonathan Oliver – High Church
10. Maura McHugh – Valerie
11. Holly Ice – Trysting Antlers
12. Ruth E.J. Booth – The Honey Trap
13. Benjanun Sriduangkaew – Elision
     About the Authors
Noir:
 1. Introduction — Ian Whates
2. E.J. Swift – The Crepuscular Hunter
3. Adam Roberts – Gross Thousand
4. Donna Scott – The Grimoire
5. Emma Coleman – The Treehouse
6. Paula Wakefield – Red in Tooth and Claw
7. Simon Kurt Unsworth – Private Ambulance
8. Jay Caselberg – Bite Marks
9. Marie O'Regan – Inspiration Point
10. Paul Graham Raven – A Boardinghouse Heart
11. Simon Morden – Entr'acte
12. James Worrad – Silent in Her Vastness
13. Paul Kane – Grief Stricken
14. Alex Dally MacFarlane – The (De)Composition of Evidence
About the Authors
The launch party for both books is at 6pm this evening at Eastercon in Glasgow. I won't be there, but I hope others will drop in and enjoy the party! For those who aren't at the con, La Femme can be ordered here.