The World Science Fiction Convention is nomadic, descending each year upon a different unsuspecting city like a benign but unpredictable mothership. This year it was London that found itself overshadowed by the con's intergalactic bulk, and bathed in an eerie, blu-ish glow.
Well, it took over the ExCel centre in London Docklands anyway.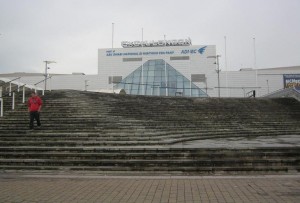 Over five days, the convention featured over a thousand programme items – panels, workshops, interviews, lectures, plays, games, parties, concerts, film and TV screenings, dances, science talks and a great costume competition on the Saturday evening.
I was on four panels, the first of which was Fallen London: Recreating London in Games, moderated by Christi Scarborough and featuring Jonathan Green and Kate Nepveu. We talked about London's rich history, and the fact that so many London-themed games were set in the Victorian period.  (A good writeup of the panel by Kate Nepveu can be found here.)
My second panel was You Write Pretty, in which we each chose a sentence from a fantastical work, and had to convince the audience that our choice was the best of the bunch. Greer Gilman chose a quote from Andrew Marvel's The Garden, EJ Swift picked a sentence from Jennifer Egan's A Visit from the Goon Squad and Christopher Priest took a line from Robert Sheckley's The Specialist. The audience ultimately voted in favour of my quote from Jabberwocky, but I suspect that had more to do with Lewis Carroll than my arguments.
Where is the YA Humour was my third panel, with co-panelists Gail Carriger, John Hemry and Jody Lynn Nye, and moderator Suzanne McLeod.  Our answer to the title question: 'There's quite a lot of YA humour actually, you just have to look further than The Hunger Games.' (In other news, Gail Carriger wears excellent hats, and John Hemry owns a tribble.)
My last panel, The Education and Training of a Young Protagonist, featured Zen Cho, John Hemry and Gail Carriger, with David Luckett as moderator. We discussed virtual schools, boarding schools for "gifted" children, combat training, tailoring education to the metaphysic and whether classrooms and teachers would still have a place in the schools of the future.
I also gave a reading of extracts from Cuckoo Song and A Face Like Glass, and hosted a Kaffeeklatsch, which roughly translates to "hour-long natter over tea". And in this case, biscuits. Lots of biscuits.
My spare time was spent roaming around and admiring people's costumes and the displays in the Exhibit Hall.
Here's "Jolie" the robot dog, who can speak Japanese, Spanish and English, and who sulks if she's carried in a holdall or not given her bone toy.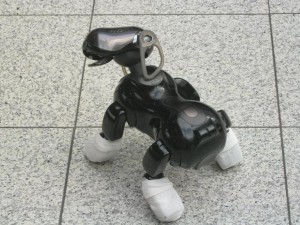 Pigeon Simulator! It detects your motions, and by flapping your arms you can soar, swoop and bank, while the big screen gives you your pigeon's-eye-view.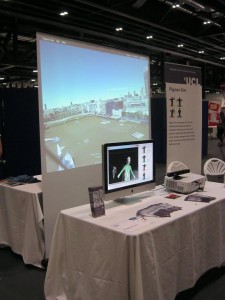 It's possible that I now own more steampunk goggles than I did…