Last weekend (28th/29th March) the very first Dutch Comic Con took place in Utrecht. It was a vast and ambitious event, drawing in 20,000 visitors.
Fate didn't want me to attend. I arrived at Heathrow to find that all Amsterdam flights had been cancelled due to the biggest power outages in Dutch history. (My jinx effect usually only strikes down locations after I arrive in them, not before.) I waited it out, however, and a mere six-and-a-half hours later was on a flight to Amsterdam, laughing at puny Fate.
Guests included artists, animators, actors, cosplayers and a few writers, including me. I was stationed at the signing table at the stall for the American Book Center, which had its own treehouse complete with owls.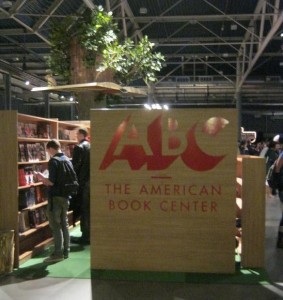 My signing table buddy was Corinne Duyvis (author of Otherbound, editor for Disability in Kid Lit and practitioner of Krav Maga, amongst other things).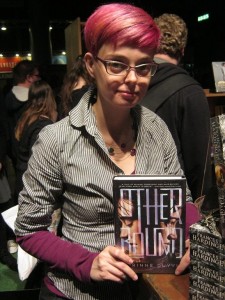 Both of us were looked after very well by the folks from the American Book Center – many thanks to Rick, Jitse, Tiemen and everybody else!
Thankfully I also got the chance to wander through the con.
The person driving the Delorean here may look slightly familiar.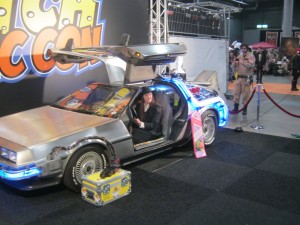 I rather liked this creepy fairground stall advertising the B-Movie Underground & Trash Film Festival.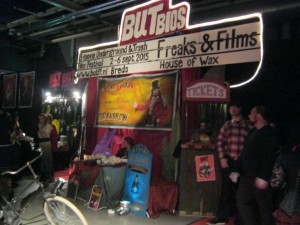 The cosplayers were particularly resplendent. Regrettably I didn't get a picture of the Jazzguls (Ringwraiths with slope hats) but I did catch these: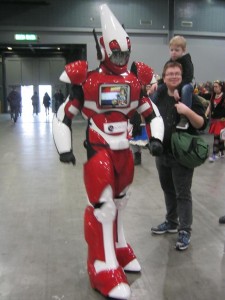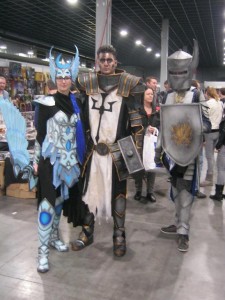 I also seized the chance to explore Utrecht a little.
I was also introduced to delicious Dutch pancakes. Later, when I was back at Schipol airport preparing to fly home, I discovered this Giant Red Button in the Touch Down cafeteria.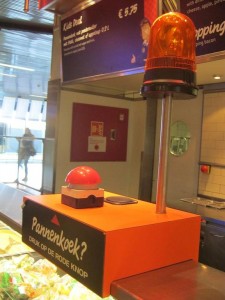 When I pressed the button, the lamp spun and a siren sounded. Then a man appeared and made me a pancake.
I considered prising the whole thing off the counter and trying to take it home, to see whether its summoning powers worked there too. Sadly, I wasn't sure I could smuggle a stolen pancake-generator through customs…
Many thanks to Dutch Comic Con, the American Book Center, Corinne Duyvis and everyone else for an excellent weekend!