On 14th  March I travelled to the Shooter's Hill Post 16 Campus, where the final of the Greenwich Schools Book Quiz was being run by an elite team of sixth formers. (It was also great to meet Caroline Fielding and the other school librarians responsible for coming up with the questions.)
Unlike the competing teams, I only had to answer questions about my own books.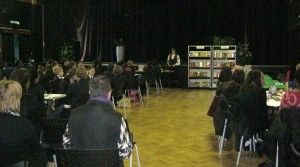 The other author present was Ellie Daines, who talked about her debut, Lolly Luck. (Her next book, a tale of amnesia and family disruption, also sounds fascinating.)
Ellie and I were given the task of declaring the winners and runners-up, and presenting gold, silver and bronze medals, all of which made me feel like an Olympic dignitary. Congratulations to 'St. Ursula's Hardinge' team for taking the gold, and to all the other teams for doing so well in a close-fought contest!