The shortlists for the UK Literary Association Book Awards have now been announced… and A Face Like Glass is on the shortlist for the 7-11 age category!
The full shortlist for the category is:
The Unforgotten Coat by Frank Cottrell Boyce
Call me Drog by Sue Cowing
The Weight of Water by Sarah Crossan
To Be a Cat by Matt Haig
A Face Like Glass by Frances Hardinge
The Flask by Nicky Singer
You can find all the shortlists here.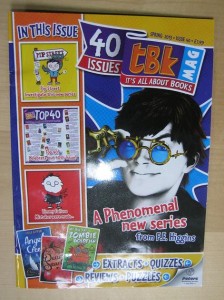 In other news, tBKMAG have just brought out the 40th issue of their excellent magazine for keen readers aged 8-12.
To celebrate, for this issue tBKMAG have chosen their favourite featured book from each issue, and put them all together to make a 'Top 40' list of books.
Twilight Robbery, which appeared in issue 32, has made the Top 40!