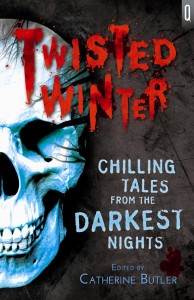 There is something eerie about the onset of winter that cannot be fully explained even by the longer nights, the stark trees or the chill. Winter is more than just an absence of light, life and heat. It has its own presence and mystery. Humanity withdraws to its little pools of warmth and illumination, and dark, ancient forces walk abroad…
Today sees the publication of Twisted Winter, a collection of creepy winter stories edited by Catherine Butler. One of the seven tales is mine, and I am lucky enough to share the anthology with six very talented authors – Katherine Langrish (the Trollfell trilogy), Catherine Butler (Teaching Children's Fiction), Frances Thomas (I Found Your Diary and The Blindfold Track),  my writing buddy Rhiannon Lassiter (Ghost of a Chance and Bad Blood), Liz Williams (the Inspector Chen series) and the legendary Susan Cooper (The Dark is Rising series).
Before you ask, no, this isn't a tinselly gaggle of twee Christmas ghost stories. Every story handles wintry menace in a different way.
A teenage boy creeps out at night, for no ordinary delinquency. On the darkening marshes, a bully goes too far. A young girl makes an eerie journey of the spirit and imagination in her quest to understand her dead father. Complacent and greedy adults hold a Halloween party, and are visited by ancient forces. The discoloured light from street lamps bathes a graveyard encounter. A teenage girl reaches a fateful agreement with a snow-pure visitor. Persephone slips away from her summer abode, back to the lands of the dead.
On a personal note, Susan Cooper is a writer I have admired since I was nine years old. When my father captivated us by reading aloud the entirety of the Dark is Rising series, I never imagined that one day I would find myself writing for the same anthology as the author.
My current feelings are best summarised as follows: