I have become aware that some of my characters have been appearing in public without telling me. Fortunately a kind gentleman named Michael Dickinson managed to take photos of them while they were frolicking at large in Cardiff Central Library. ('At large' may not be the right term. 'At small' is perhaps more accurate.)
As you can see from the picture below, the runaway characters are preparing to make their getaway in a floating coffeehouse. Note the big, white kite used to pull the coffeehouse along the blue paper water.
Here are Hathin and Arilou from Gullstruck Island/The Lost Conspiracy, dangling their legs into the water.
Here is Neverfell from A Face Like Glass, attending to a formidably sized cheese. It may even be a Stackfalter Sturton…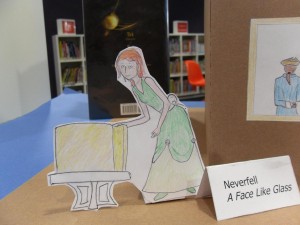 …which means it should probably be kept safe from this gentleman.
The forces of law and order are likely to be very interested in the whereabouts of these three – Mosca Mye, Eponymous Clent and Saracen the goose from Fly by Night and Fly Trap/Twilight Robbery.
Come to think of it, the little figure that is just visible through the lefthand window also looks somewhat suspicious. And… um… rather familar. 🙂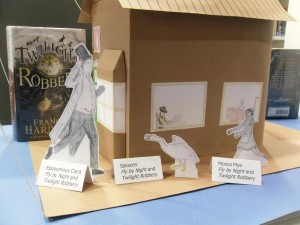 Here is a closeup of the tiny, belligerent paper Saracen…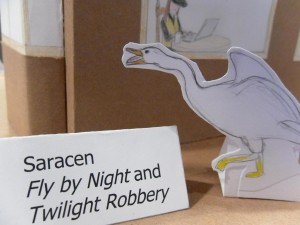 …and another view of the coffeehouse, where other disreputable individuals can be glimpsed through the windows. The man dressed in a blue coat and seen from behind is Hopewood Pertellis, and the black-clad figure is Aramai Goshawk.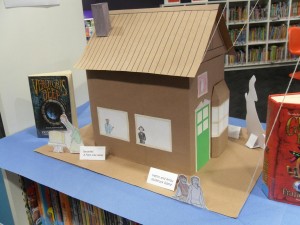 Many thanks to Michael Dickinson for creating this wonderful display, and for sending me these photos!