Bologna is a beautiful city, known for its shady colonnades, rosy stone, leaning medieval towers and delicious food.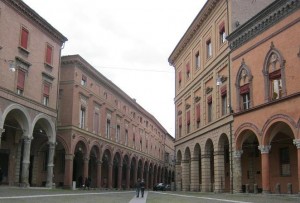 Every year, several hundred publishing companies and imprints from all over the world meet for Bologna Children's Book Fair, to sell and buy book rights, meet each other and discover all the new and exciting things happening in the book world. Tens of thousands of people attend, including rights reps, authors, illustrators, agents, booksellers and journalists.
Last week I attended the Bologna Children's Book Fair for the very first time. Fortunately I was being looked after by a posse of Bologna veterans – my fellow authors Rhiannon Lassiter, Mary Hoffman and Lucy Coats.
Apparently one wise soul recommended that the best things you could bring to the Bologna Book Fair were "good walking shoes and a strong bladder". Many people who attend the fair have crazily intense schedules, with half-hour-long appointments back-to-back all day, leaving very little time for food or toilet breaks. The fair isn't small either, so sometimes people have a five-minute dash through the halls to their next appointment.
Fortunately my schedule wasn't quite as jam-packed, so I was able to explore the fair. (My attempts to look like a calm and seasoned professional might have been more convincing if Rhiannon and I hadn't spent five minutes jumping around on an interactive fish pool.)
But going to Bologna is useful, because you get to meet important people in the industry! Such as… er… giant bees…
…and Miffy, here seen with her entourage.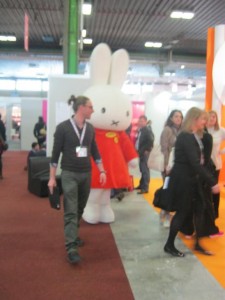 Since it's the 100th anniversary of the birth of Tove Jansen, author of the Moomin books, The 'Author Cafe' contained a lovely little Moominland scene. Moomins and Hattifatteners glowed under animatronic trees, which slowly waved in a non-existent breeze.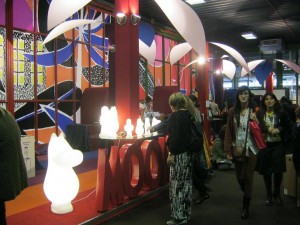 The fair also has a large Illustrator Exhibition, filled with beautiful artwork.
Lots of illustrators who aren't in the exhibition turn up to the fair anyway, in the hope of catching a publisher's attention. You see them roaming around with their portfolio cases, or queuing patiently by stalls. There's a long wall where they can put their posters and flyers, and it's never long before it's completely covered – talent pinned haphazardly onto talent, some beautiful pictures even falling to the floor.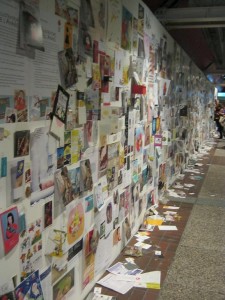 I learnt a new phrase at Bologna – 'paper engineering'. This isn't just wondrous pop-up book art, this covers all ingenious use of paper and card to make 3D sculptures. We came across it everywhere.
I even had a chance to explore Bologna itself, thanks to Evelies Schmidt from Verlag Freies Geistesleben, (the publishing company who have produced a German version of Verdigris Deep, and are currently having A Face Like Glass translated into German as well). Since we both love seeing new places, our 'meeting' escaped from the fair, and ran off into the heart of the city in search of adventure.
Things I learnt at Bologna:
1) The children's book world is vast, and I've only seen a tiny corner of it. Although I technically knew this already, it's a very different matter seeing huge halls filled with stalls from different countries, and large posters for celebrity authors I've never heard of because they haven't been translated into English.
2) My books aren't really 'my books'. I work very hard to make them happen, but so do an awful lot of other people. Editors, rights reps, designers, translators, printers and all the people who make sure the books reach the right shops… I'm just lucky enough to be the one whose name is on the cover.
3) Trends in the book world change fast, and move in cycles. What's more, sometimes publishing companies announce that they're after one kind of book, then get excited and pounce on something completely different. Moral: as an author, chasing trends can run you ragged. You might as well go ahead and work on the book you're passionate about, and write it as well as you can.
4) There are a very large number of people all over the world dedicating their lives to the production of joyous things. This makes me very happy.