I mentioned that I was looking for an excuse to go back to the Story Museum, didn't I?
Fortunately the nice people who work there invited me over to run a workshop at the Museum.
On Wednesday 4th June, I worked with students from Shellingford Primary School, looking at ways of fleshing out a story character. The students came up with lots of really inventive and imaginative suggestions throughout. A character who fell into the sea, were munched by fish then grew gills! A hero whose most important relationship was with the villain, since without him he'd have nobody to fight! A character plagued by terrible flashbacks whenever they saw their nemesis!
At one point, we discussed the way things that a characters' experiences could change them, and I asked whether anybody knew what had happened in Batman's childhood. To tell the truth, I liked the "raised by bats" and "swallowed a bat" answers better than the real back story.
I was also pleased that "liking hats" was suggested as a character 'strength'. (The student who suggested that was clearly adept at assessing his audience.)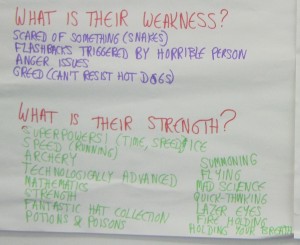 Afterwards, all the students came up with their own brilliant characters, including a cookie-based hero (with raisin eyes and sesame seed buttons) questing for the rare Alien Cookie, a troll-hating rhino-rider, a mermaid doomed to be killed by a witch, Lava Man battling his nemesis Water Man, and a schoolgirl overcoming her fears of change and going to a new school.
Many thanks to The Story Museum for letting me come and play again, and to everybody at Shellingford Primary for sharing their ideas with me!