On the 7th July, the mighty forces of the British Science Fiction Association and the Science Fiction Foundation did unite, for a day of AGMs, panels, interviews and discussions of matters speculative and fantastical. The BSFA was kind enough to invite me as their guest of honour.
The weather was less kind, to the point of being downright unsporting. My walk to the venue was considerably more aquatic than expected. Fortunately my little paper map held out, and only collapsed into a papier mâché tatter just as I reached my destination.
I did at least manage to catch part of the first panel, featuring the SFF's guest of honour, Jo Fletcher of Jo Fletcher Books. It was a cross between a literary discussion and a balloon debate, the other panellists 'pitching' different books to Jo, who used her formidable editorial instincts to decide which ones she would 'publish'.
Next it was my turn to be interviewed by Tom Pollock (The Skyscraper Throne trilogy). Tom was a generous, insightful and skillful interviewer, and managed to give some shape to my ramblings and digressions.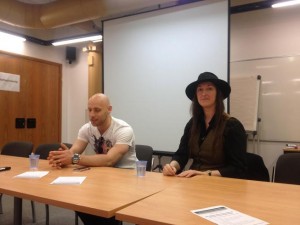 We discussed children's fiction with a bodycount, 'neat' resolutions versus 'messy' complex endings, dead parents, questionable surrogate parents, hats, geese, whether romance in YA fiction can push out depictions of other relationships, and whether my worlds were dystopias.
Tom was also very modest, and did not mention
a) that his second book The Glass Republic had just been shortlisted for a British Fantasy Award,
or
b) that the very next morning he was throwing himself off the Broadgate Tower and abseiling 165m to raise money for St Mungo's Broadway.
(It's OK, he survived.)
After lunch, Sophia McDougall (Mars Evacuees, the Romanitas trilogy) interviewed Jo Fletcher, who described the journalistic and publishing career that has led to her running her own imprint. She also talked about the rise of internet vitriol, working with legends such as Ursula le Guin, and running a convention with a broken neck. When asked what sort of manuscripts authors should avoid sending her, she mentioned vampires (she's seen enough of them for a lifetime) and dystopias (soon to be out of vogue).
The last item on the schedule was my panel with Farah Mendlesohn, Niall Harrison and Virginia Preston. My fellow panelists scared me beforehand by asking whether I would mind a "frank and free discussion of my work". Since they are all terrifyingly intelligent, I had visions of my books being meticulously dissected while I hid quivering under the table.
In the event, my fellow panel members were actually fairly gentle with me, and no hiding was required. We discussed what constituted a 'good' character in my books, Farah suggesting that it was one who "would open doors that everybody else had told them should remain closed". We also talked about rebels and rule-breakers, mentor-figures and ways that gaming has affected my writing.
Many thanks to everyone at the British Science Fiction Association and the Science Fiction Foundation for a very enjoyable day!