On 12th and 13th July, the first Young Adult Literature Convention (YALC) spread its wings and took to the summer sky. And it was glorious.
It was also very, very popular.
YALC took place as a part of the much larger London Film and Comic Con (LFCC). I first had an inkling that there might be more than a couple of people turning up to the combined conventions when I arrived outside the Earls Court Exhibition centre, and found that the huge forecourt was completely filled by one enormous, snaking queue.
I felt a little guilty as I bypassed the queue, using my special guest pass. (Though I also felt a bit like a member of the a secret society as I was shown in through a back door, which made me feel better.)
Within the halls, LFCC was crowded, hot as a pressure cooker, spectacular and beautifully distracting.
The YALC events took place in the Book Zone, the slightly cooler end of Earls Court 2.
I was on "Bring Me My Dragons! Writing Fantasy Today", a panel discussing YA Fantasy. My co-panelists were Jonathan Stroud (The Bartimaeus Trilogy, Lockwood & Co.) , Amy McCullogh (Oathbreaker's Shadow) and Ruth Warburton (The Winter Trilogy), and the panel was ably chaired by Marc Aplin of Fantasy Faction.
We discussed the characteristics  of YA heroes, and Jonathan came up with a particularly interesting answer, defining them by their smallness, lightness, perception and quickness of motion and wit – advantages they need against those who are larger, stronger and ostensibly more powerful. Discussing whether darker elements should be excluded from YA fantasy, Ruth pointed out that our notions of what is 'safe for children' are specific to our own place and time. Throughout history very young children have been forced to work, fight or die, and in many countries this is still the case. Fantasy is an opportunity to portray this honestly.
The question of 'moral messages' was raised, and in different ways we all said that we didn't feel a need to thump our readers over the head with an ideology. As Amy said, you can explore issues without telling the reader what to think.
(By the way, I am still not used to being live-tweeted. It's a little like making an offhand remark, and then realising that not only is the nearby microphone on, but it has just transmitted your words to every speaker in the world.)
One thing most of us YALC authors hadn't realised was that we would be sharing the Green Room with the celebrities of LFCC. Over the weekend I spotted Princess Leia, R2D2, William and Lee Adama, Faramir and Cersei Lannister, not to mention the 8th doctor having his photo taken by Giles from Buffy. (Yes, I am aware that all of these people have real world names, but it's very hard to remember that when you catch sight of them across the room, munching a sandwich.)
Throughout the weekend, YALC had an enthusiastic, buzzy, sugar-rush atmosphere that has left most of us a bit giddy even now. I think this was partly due to sharing space with LFCC, and the alchemy the occurs when you pour related fandoms into the same flask and stir vigorously. Co-habiting with LFCC also meant that there was a high cosplay count, and our audiences were liberally sprinkled with resplendent Khaleesis, Captains America, anime characters and Doctor Octopuses. (Doctor Octopi? Doctors Octopus?)
Many thanks to Children's Laureate Malorie Blackman, Booktrust and everybody else responsible for organising such a fantastic event!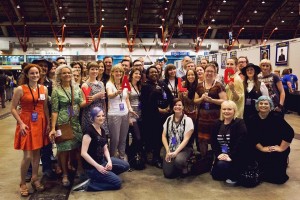 Just because I can, I will end this post with a few examples of the wonderful costumes at LFCC/YALC.